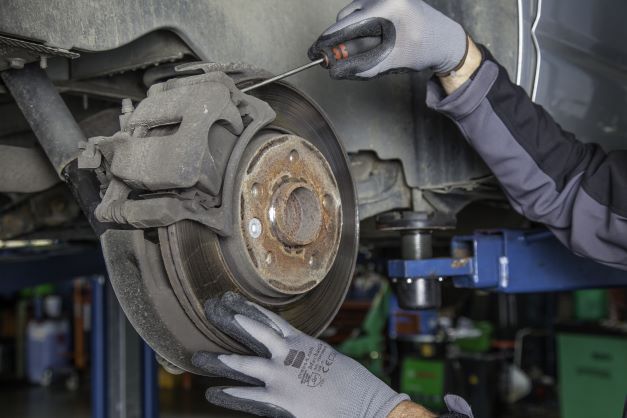 Regular brake service is an important part of vehicle maintenance. Mesa truck owners need to have their brakes checked and serviced regularly to ensure safe driving. At Mesa Mobile Truck Repair Co., we offer comprehensive brake service for Mesa drivers. We'll make sure your brakes are in good condition and functioning properly. So if you're due for brake service, don't wait – come see us today! Call 480-530-5090 now!
About Mesa Mobile Truck Repair Co.
Mesa Mobile Truck Repair Co. offers truck brake services in Mesa, AZ. We are a full-service truck repair shop that can handle all your truck brake needs. We have a team of experienced and qualified technicians who can quickly and efficiently service your brakes. We also offer a wide range of other truck repair services, from on site truck repair to truck oil change, so you can count on us to keep your truck running smoothly! Give us a call at 480-530-5090!
Importance of Regular Truck Brake Service
Your truck's brakes are one of your vehicle's most important safety features. That's why it's so important to have them serviced regularly. Brake service includes inspecting and replacing brake pads, rotors, and other components as needed. It's also important to have your truck's brakes checked if you notice any unusual noise or vibration when braking. If you wait too long to service your brakes, you could be putting yourself and others at risk on the road. So don't delay – if it's time for brake service, bring your truck to Mesa Mobile Truck Repair Co.!
Dangers of Having A Malfunctioning Brake
Mesa truck owners should be aware of the dangers of having a malfunctioning truck brake. A braking system that is not functioning properly can cause an accident, putting both the driver and other motorists at risk. It is important to have your brakes checked regularly to ensure they are in good working order. If you notice any issues with your brakes, be sure to have them fixed. Ignoring a problem with your truck brake can lead to disastrous consequences.
At Mesa Mobile Truck Repair Co., we take truck brake service seriously. We'll make sure your brakes are in good condition so you can feel confident behind the wheel. If it's time for brake service, call us today or come see us at our shop! We're here to help keep you safe on the road.
Truck Brake Repairing Process
Mesa truck owners who need brake repair services can depend on the professionals at Mesa Mobile Truck Repair Co. We have a process for repairing brakes that is both efficient and thorough. Here is a process of how we repair truck brakes:
First, we will inspect your truck's brakes to identify any issues.

Next, we will diagnose the problem and develop a plan to fix it.

Once we have a plan, we will repair your truck's brakes according to that plan.

After the repairs are complete, we will test your truck's brakes to ensure they are working properly.
If your truck's brakes are in need of repair, don't hesitate to call Mesa Mobile Truck Repair Co.
Contact Mesa Mobile Truck Repair Co.
Mesa Mobile Truck Repair offers quality truck brake service to Mesa drivers. We know how important it is for your truck to have reliable brakes, so we work hard to provide fast, efficient service that you can count on. Our team has the experience and expertise necessary to get the job done right, and we use only the highest-quality parts and equipment. Contact us today at 480-530-5090 for more information or schedule a brake service appointment. We look forward to serving you!