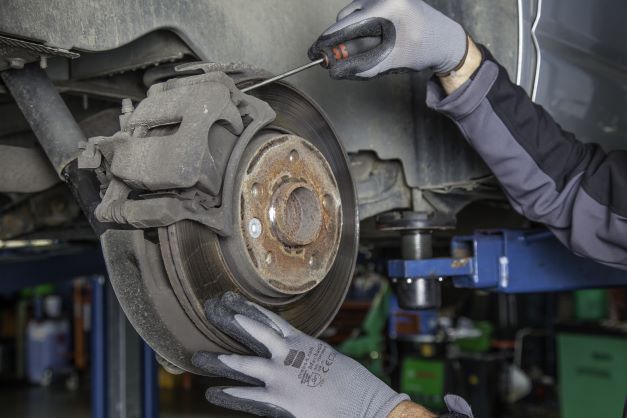 A lot of truck drivers just like you have an underlying fear of being stranded on the road at some ungodly hour of the night. They love their rigs, sure, but love doesn't always prevent the occasionally blown radiator or broken timing chain.
When things like that happen in Maricopa County, give your friends at Mesa Mobile Truck Repair Co. a call. A member of our team will come right to your assistance, even if it's 2 in the morning. Because we also love rigs, and we care that your deliveries get made on time.
Give us a call at 480-530-5090 to learn more about mobile truck repair in Mesa, AZ.
Calling Us Is Calling Quality
You've never spoken to staff so courteous and efficient. No, sir. No, ma'am. That's how we are at Mesa Mobile Truck Repair Co., and that's how we'll speak to you. We're in this business to serve others, not just ourselves.
We also take a lot of pride in the work that we do here. Whether it's something as small as an oil change or something larger like an engine overhaul, we'll do the job right. And we'll stand by our work, too (not literally while you're barreling down the freeway, but yeah, we stand by it).
She's Your Girl–We'll Treat Her Right
You spend a lot of time in your rig. So when she breaks down you're not only concerned about deliveries, but about exactly what's wrong. You want the best diagnosis possible, and that's exactly what we'll give you.
Mesa Mobile Truck Repair Co. has been in business for a long, long time (longer even than those Marathon candy bars from the 1970s). We've built a reputation on our quality of workmanship and our willingness to go above and beyond for every customer, no matter how big or small the job is.
In Bright Sunlight Or The Dead Of Night
All of our mechanics wear sunscreen. And we are not frightened of some old movie by George Romero. So no matter what time of day you need us, we'll come running to help.
Whether we need sunglasses or a stake and hammer, our team is going to be there for you and your rig. Call us from anywhere in Maricopa County.
Engines, Brakes, Tires, And More
We service all parts of your rig, including the trailer, with a no-nonsense attitude. We'll get the job done quickly and correctly so you can get back on the road.
Here's a list of some of the services we provide:
Engine Repair and Maintenance

Brake Service and Repair

Tire Sales and Service

Air Conditioning Service and Repair

Electrical System Service and Repair

Fuel System Service and Repair

Steering and Suspension Service and Repair

Transmission Service and Repair

Generator Service and Repair

Welding and Fabrication Services

24-Hour Roadside Assistance
Mesa Mobile Truck Repair Co. is here to serve you. We'll go the extra mile to make sure your truck is running like a champ. So don't be afraid to give us a call the next time you're stranded on the side of the road. We're here to help!
So when you're driving through Maricopa County, do keep our contact number handy. It's 480-530-5090.